If it is the first time you travel to Cuba, this article will certainly be of help, since the subject of taxis is pure insanity. If you compound that with the fact that they handle two currencies, you may feel confused or it may even result to be expensive.
I hope you find this information and tips I'm offering to be of help.
– The taxi trip from the airport to Havana costs 25/30 CUC (pesos convertibles; I advise you to exchange your Euros at the CADECA you will find at the airport… no matter what they tell you, the exchange rate is the same as it is in Havana, and in this way you don't risk having to make long lines on the following days. More importantly, keep in mind that on Sundays banks are closed in Cuba).
– The airport is about 20 km from Havana, which is about half an hour away. And if you arrive by night, you will notice there is little light. Don't panic; Cuba is very safe, on the following day you'll be blinded by the sun and you will enjoy a multi-colored country.
– Taking a taxi in Havana. If you are around the El Vedado area, where Habana Libre, El Nacional and other hotels are located, going downtown on a taxi or coco taxi may cost you around 5-7 CUC, depending on how skilled you are with bargaining, since it is not as common to use a taximeter as it is in other countries.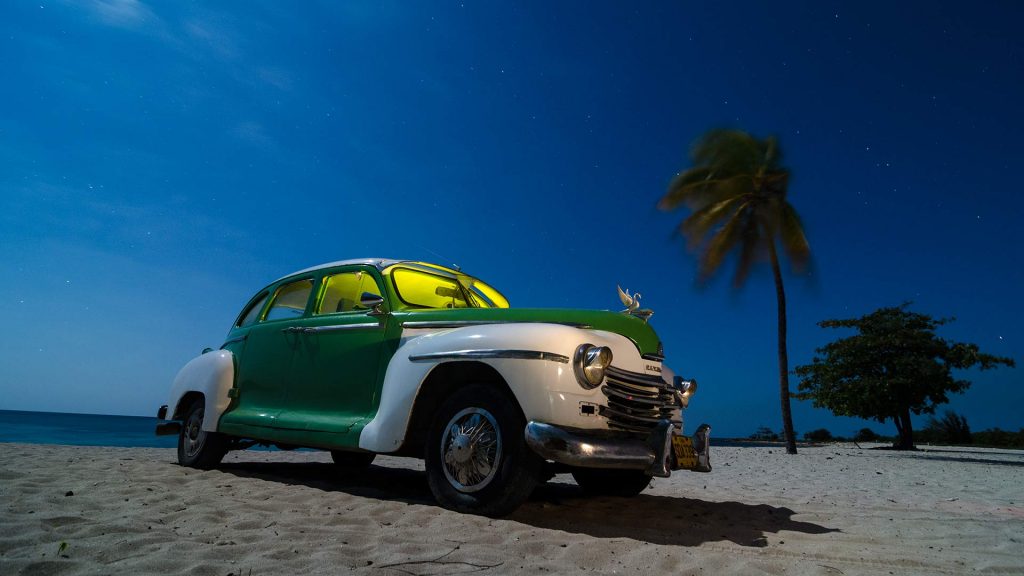 How much does a taxi cost in Havana – Rates and tips
– How do Cubans travel? Evidently, the average Cuban can't afford a normal taxi, so he has two choices. One is the guagua or bus, and the other is "ir boteando", which is quite cheap – about 0.5 CUC per person. The only problem is that someone needs to explain to you how these taxis/cars are flagged (almost all that you see are offering this service). Be honest and clear; ask any Cuban on the street and he will surely help you travel this way, as show on this video.
– If you want to go spend the day at the Playas del Este from Havana, you will probably be charged between 10 and 15 CUC for taking you there, and for 20 xux you may be able to arrange for them to pick you up at a certain time.
– Returning to the airport on the last day of your trip. Almost all taxis will offer to pick you up and take you for 20/25 CUC. You will notice it's a bit cheaper than your arrival in Cuba. At the private home where you are, they may arrange it for you, or if you are at a Hotel, at the door you will always find taxis (pick one with air conditioning so you can relax on your farewell to Cuba so the heat doesn't get to you)
– Taximeters don't commonly see a lot of use in Cuba. Since you are on vacations, and traveling means experimenting, you could try all transportation methods and try with and without taximeter, the guagua, the almendrón, cocotaxi or bicitaxi.
Video about how to take a taxi "cuban style"
Webs with more information about tours and photo tours to Cuba (led by Louis Alarcon)

"Locally Sourced Cuba" Travel Agency
US Travelers (people to people)
Photographing Cuba Project – Portfolio
Videos about these photo tours
Touristic video documentary on Cuba.
Email: photographingcuba@gmail.com
Web : www.photographingcuba.com
Videos of my photo tours: Clic here
Next photo tours:  Clic Here