In this article you will not only discover the best places where you can listen to jazz in Havana, but at the end I will also show you how to take a different and authentic trip to Cuba. You can take it with us or on your own, but we will certainly help you find new ideas.
Something that has left a mark on Cuban jazz as time went by was the mix obtained from the typical jazz rhythms born in New Orleans and the Caribbean melodies; resulting in fusions with genres as diverse as rumba, swing, son and blues. If during your vacations in Cuba you want to get to know and enjoy this Latin Jazz and Afro Jazz made in Cuba, there are certain places you just can't miss.
One of the favorite places of jazz lovers is the JAZZ CAFÉ. This bohemian spot is known by many as the palace of jazz, since here is where the best sounds by Cuban and international jazz players resonate. You will find the Jazz Café at the top floor of the Galerías Paseo shopping mall, right by the Malecón and across the Meliá Cohiba hotel, right at the intersection of calle Pase and 3era, in El Vedado.
This is a place where you will be able to enjoy jazz classics played by accomplished musicians; but there you will also discover an ideal setting for young up-and-comers. Every night, the Jazz Café opens its doors to visitors. Admission costs around 12 CUC (about 11 €) and includes dinner. You can also get there later and just enjoy the concert.
Places to listen to jazz in Havana
Other places where you can listen to jazz in Havana are EL GATO TUERTO, located at calle O between 19 and 17, a small place where you will find the elite of the feeling and Cuban blues; and also LA ZORRA Y EL CUERVO, which you will find at calle 23 between N and O, El Vedado. There, each night starting at 10 p.m. is where jam session lovers come meet. If you want to find a good table, you can get there a bit earlier, but my advice is to find a table where you have a good view, since when you are too close, sound tends to be quite loud (this advice is given by La Zorra y El Cuervo's Barman himself).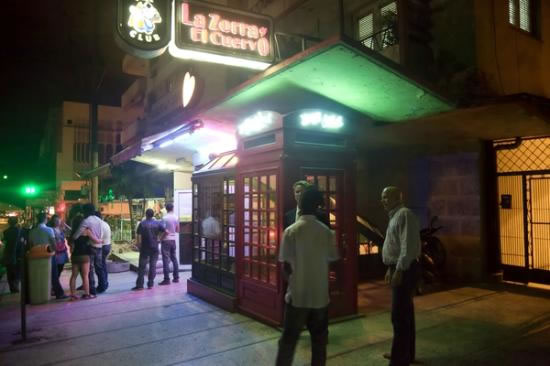 A somewhat hidden spot
Another place very few people know about is at the tobacconist or tobacco shop of the Meliá Cohiba hotel, where shows are usually offered from 8 to 9 in the evening, but times may vary. There, you will have a band almost for yourself. Oh, and you don't have to be a guest at the hotel to go, and you will additionally be able to try a good Cuban with some good rum.
In your trip to Cuba you will be able to get to know these and many other clubs of Havana, so as to enjoy the colors of Havana to the beat of jazz rhythms.
Best of wishes to all readers of my articles about traveling in Cuba.
Email: photographingcuba@gmail.com
Web : www.photographingcuba.com
Videos of my photo tours: Clic here
Next photo tours:  Clic Here