When vacationing in the Island, you should be aware of where and how to eat on the cheap in Cuba. You will find several options where you will be able to taste the authentic Cuban cuisine. In your visit to Havana, you will find several luxury restaurants, but if you decide to visit the Island on a budget, there you will also find small cafeterias and restaurants where you will be able to eat for just a few bucks.
Private lodging homes usually offer well-prepared dishes, and are not overly expensive. In this video, you will see how one of my trips is, and what meals we are served at private homes.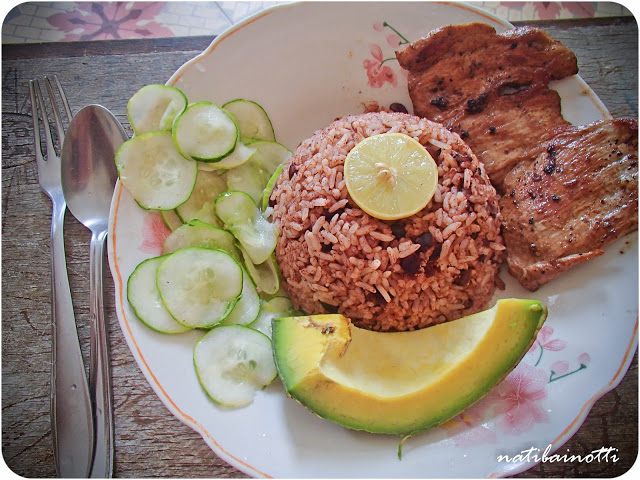 I have taken over 20 trips to Cuba, and have heard all kinds of opinions, ranging from travelers who think Cuba is expensive, to others who comment on how cheap it is. Undoubtedly, there is nothing like experience; having a good meal in Cuba may cost you some 7-10 CUC as long as you know where to go, because tourists usually go to the first restaurants found on guides, and there is where things tend to get a bit more expensive, but under no circumstance overly so for the average tourist.
Video of one of these private "paladars" :
https://www.youtube.com/watch?v=rAWO86hHBqs
Where and how to eat on the cheap in Cuba.
In many of the streets of Old Havana, downtown Havana, Vedado or any other corner of Cuba you will find special cafeterias. They are the result of particular businesses where you will find home-cooked meals at very sensible prices. You will notice some are advertised with huge illuminated billboards, and others are almost hidden. Here, you will be able to eat the famous "cajita cubana" for just 1 CUC (25 or 30 Cuban Pesos): a large serving of congrí (red beans and rice), pork meat (may be a steak, slices, fricassees…), side dish and vegetables. But at these cafeterias you will also find other cheap meals and meriendas on offer, such as sandwiches, pizzas, spaghettis, burgers… just for 10 Cuban Pesos (approximately 0.5 usd).
In addition to these cheap cafeterias you will stumble upon on your walks around Cuba, on your trip you will also be able to savor the meals of renowned restaurants, such as El Jardín del Café del Oriente. This is a place where you will not only find good gastronomical offerings at very low prices, but also an intimate setting under the sky of Havana. You will find El Jardín at Amargura street between Mercaderes and Oficios, just a few steps from La Casa del Chocolate and the luxurious El Café del Oriente restaurant. It is very cost-effective place that goes unnoticed by many tourists visiting Cuba for the first time.
In your tour of Old Havana, you will also find El Mesón de la Flota; a tavern of sorts that specializes in Iberian cuisine. There, you will be able to enjoy beans, squid, tortillas, and other fusion recipes mixed with the purest of Cuban flavors. At El Mesón de la Flota you will also be able to enjoy a flamenco music and dancing show. You will find this peculiar restaurant very close to Plaza Vieja, at calle Mercaderes no. 57 between Teniente Rey (Brasil) and Amargura.
These are just some of the many inexpensive restaurants you will find on your trip to Cuba, since while the island boasts famous luxury establishments, you will also stumble upon several places where you will be able to enjoy sumptuous dishes for a very low price.
Email: photographingcuba@gmail.com
Web : www.photographingcuba.com
Videos of my photo tours: Clic here
Next photo tours:  Clic Here