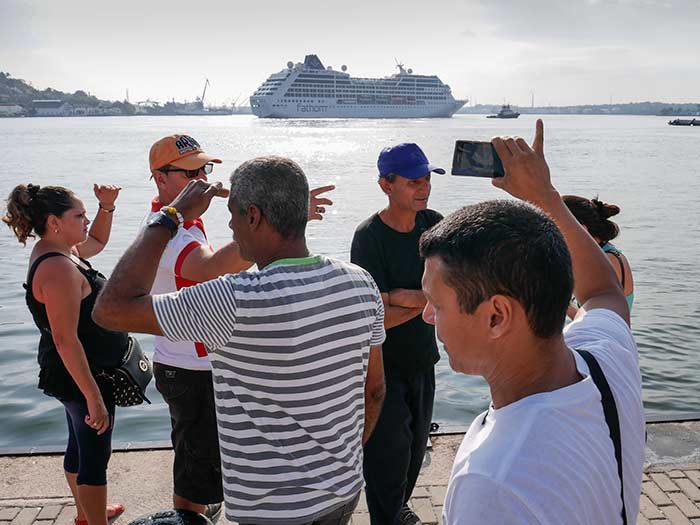 On May 1 the Adonia cruise from Carnival company (the largest cruise company in the world), departed from Miami with around 700 mainly American travelers that were making history as it was over 50 years something like this took place.
It was on May 2, at about 8:45 am I heard the ship's horn entering the bay of Havana. That was a historical moment, hundreds of cruise passengers on the boat deck waving to Havana and its inhabitants and hundreds of Cubans who were surprised of so much movement and so many sounds from the huge ship.
What happened in the next 4 hours was something improvised and wonderful, hundreds of Cubans were approaching to take pictures of the cruise and about 11 people began to get off the boat and into Old Havana staggered and in small groups since it is not yet allowed for American citizens to do tourism in Cuba, this type of trip is defined as a people-to-people cultural exchange.
Video:  https://www.youtube.com/watch?v=a4aqj4Eushk
What travelers could not imagine was the reception that was organized extemporaneously nor the tears that many of them would shed when crossing the corridor that Cubans made and feel the embrace of many people.
Photographing and making history in Cuba
The Cuban character is festive and cheerful and if they have the opportunity to celebrate something, they do so naturally, and that was how it happened.
They left behind political polemics and everything else to prove by cries, hugs and tears that in Cuba everyone is welcome.
A magical moment I was lucky to document and which adds another photographic series to my obsession to show unique moments on the Island of change.
http://photographingcuba.com/photo-cuban-essays-by-louis-alarcon/making-history-adonia-in-cuba
Email: photographingcuba@gmail.com
Web : www.photographingcuba.com
Videos of my photo tours: Clic here
Next photo tours:  Clic Here